Enrique M. Muro
I am a Senior Scientist (tenured) working at the CBDM group at the Johannes Gutenberg University of Mainz in Germany.
My research interest focuses on Computational Biology and Bioinformatics.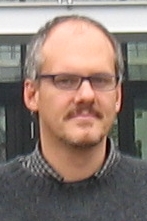 Contact information:
Dr. Enrique M. Muro
Johannes Gutenberg University of Mainz
iomE - Faculty of Biology
Biozentrum I
Hans-Dieter-Huesch-Weg 15
55128 Mainz. Germany

E-mail: ed.zniam-inu@orum (not a palindrome, please read it backwards)

---
Research
I am interested in understanding and discover new biological processes. This is probably due to my background as a Computational Physicist, and profile as Computational Biologist and Bioinformatician.
Science and Biology, in particular, is full of rules that simplify drastically the way nature works. Simplifications (that are assumed to be right) stand on our incomplete knowledge of the domain and posterior research will be based on those. It is not always the most efficient way to learn but, for practical reasons, is a good strategy. This has been previously approached in the concept of Falsifiability by Karl Popper.
Nevertheless, exceptions to the simplified rules can be very relevant and causal of functionality; in my particular field of study, even with implications for human diseases. Let me give you an example: the study of the non-coding DNA (junk DNA or the dark genome). Till very recently, even after the Human Genome Project goal achievement, it was basically considered that DNA regions that do not code for proteins were non-functional and therefore uninteresting. Funded projects on the topic were rejected (or not even written) because they were mostly considered as a waste of resources. The perspective has changed drastically over the years, transcriptome sequencing has proved its relevance and nowadays there are hundreds of labs devoted to non-coding research. It is the other way around, it has become a hot research topic. Therefore, scientists swimming against the tide, supported by evidence, have big chances to make a difference. There are other paradigms, like the central dogma of molecular biology (DNA<->RNA->Protein; with contradictions like prions), the concept of one gene -> one protein (until the discovery of alternative splicing), etc.
Taking this into account, I am quite interested in discovering biological mechanisms and properties that lead to gene functionality, stressing any implication for human diseases. For that, a must to start is to have a well-determined scientific question. Then, I will approach the problem with a Computational biology/Bioinformatics perspective, usually in the form of a hypothesis or a model that will be formulated to provide answers to the main scientific question. Finally, it is needed evidence to support the hypothesis, that will be provided through methods: data science, databases, statistics, algorithms, artificial intelligence paradigms, external tools, or even our own software and web servers.

Keywords: three-dimensional chromatin structure, genomics, transcription, non-coding genes, evolution, systems biology, pseudogenes
---
News
December 2019:
We are very pleased to announce that our work has just been published online (see here):
........Muro, E.M., Ibn-Salem, J. & Andrade-Navarro, M.A.
........The distributions of protein coding genes within chromatin domains in relation to human disease.
........Epigenetics & Chromatin 12, 72 (2019) doi:10.1186/s13072-019-0317-2. PMID: 31805995


October 2019:
Finally!, my book on Bioinformatics has been published



Bioinformática.
Entre la carne y la máquina
Enrique M. Muro


Available @ El Pais



October 2019:
Sebastian Freidel is working on finishing our project on global protein homorepeat functionality.
It is well known how dangerous a repeat can be. For instace, the PolyQ that is causative of Huntinton's disease.
But it is not really known the relevance of these repeats from a genome-wide perspective... isn't it?.


May 2019:
Our special issue of the journal Genes on 3D Genomics is now online.



January 2019:
I accepted an invitation to write a popular book on bioinformatics within a mathematics series.
Its evolution from being the enfant terrible of molecular biology labs up to nowadays: "the grounds,
history, application to fundamental and applied science,...".
If you you want to know the difference between bioinformatics, computational biology, and/or
systems biology?...this is your book.

The idea of the collection is described here
See the udated release date.



16 November 2018:
Sweta Talyan is defending her PhD under my supervision.
At 10:00 Sweta's thesis defense will take place in Hoersaal BZ1-HSA 00.187
Faculty of Biology, Biozentrum I, Hans-Dieter-Huesch-Weg 15.
Title: "Detection of protein sequence remnants within non-coding genes".

Now it's done...congrats Sweta!





---

Some publications that represent my work

As a principal investigator:


The distributions of protein coding genes within chromatin domains in relation to human disease.
Muro, E.M., Ibn-Salem, J. & Andrade-Navarro, M.A.
Epigenetics & Chromatin 12, 72 (2019) doi:10.1186/s13072-019-0317-2. PMID: 31805995



Identification of transcribed protein coding sequence remnants within lincRNAs.
Talyan S, Andrade-Navarro MA, Muro EM.
Nucleic Acids Res. 2018 Jul 9. doi: 10.1093/nar/gky608. PMID: 29986053




As a Post-doc:


Functional evidence of post-transcriptional regulation by pseudogenes.
Muro EM, Mah N, Andrade-Navarro MA.
Biochimie. 2011 Nov;93(11):1916-21. doi: 10.1016/j.biochi.2011.07.024. Epub 2011 Jul 27. Review. PMID: 21816204



The pseudogenes of Mycobacterium leprae reveal the functional relevance of gene order within operons.
Muro EM, Mah N, Moreno-Hagelsieb G, Andrade-Navarro MA.
Nucleic Acids Res. 2011 Mar;39(5):1732-8. doi: 10.1093/nar/gkq1067. PMID: 21051341



Identification of gene 3' ends by automated EST cluster analysis.
Muro EM, Herrington R, Janmohamed S, Frelin C, Andrade-Navarro MA, Iscove NN.
Proc Natl Acad Sci U S A. 2008 Dec 23;105(51):20286-90. doi: 10.1073/pnas.0807813105. Epub 2008 Dec 18. PMID: 19095794



Complete list of publications: Included in Pubmed Not included in Pubmed
---
Teaching
Recent teaching at the Johannes Gutenberg University of Mainz
Masterstudiengang Biomedizin. Modul: Proteinbiochemie und Bioinformatik, Winter 2015
Masterstudiengang Biomedizin. Modul: Proteinbiochemie und Bioinformatik, Winter 2016
Masterstudiengang Biomedizin. Modul: Proteinbiochemie und Bioinformatik, Winter 2017
Masterstudiengang Biomedizin. Modul: Proteinbiochemie und Bioinformatik, Winter 2018
Masterstudiengang Biomedizin. Modul: Proteinbiochemie und Bioinformatik, Winter 2019
Undergraduate. Modul: Biostatistik und Bioinformatik, Fall 2017
---